Welcome to the Well Being Spot!
A safe space to explore well being activities, feelings and more.
Empathy is a very powerful tool as it can help us to understand another person and feel their emotions. It brings about understanding, sympathy, collaboration, a sense of belonging. How can we help children developing the power of empathy? Reading is an effective way to develop empathy in children.
Have a look at the Primary Age Guide from the EMPATHYLAB : https://irp-cdn.multiscreensite.com/b2f3fbc2/files/uploaded/EMPATHYLAB%20primary%20GUIDE%20Landscape%20AW.pdf
These are some of books I really like to use:
Why not celebrate Empathy Day in the company of amazing children's authors ? Join them using the link below:
https://www.empathylab.uk/newpage0198f816
For other ideas on ways to develop empathy :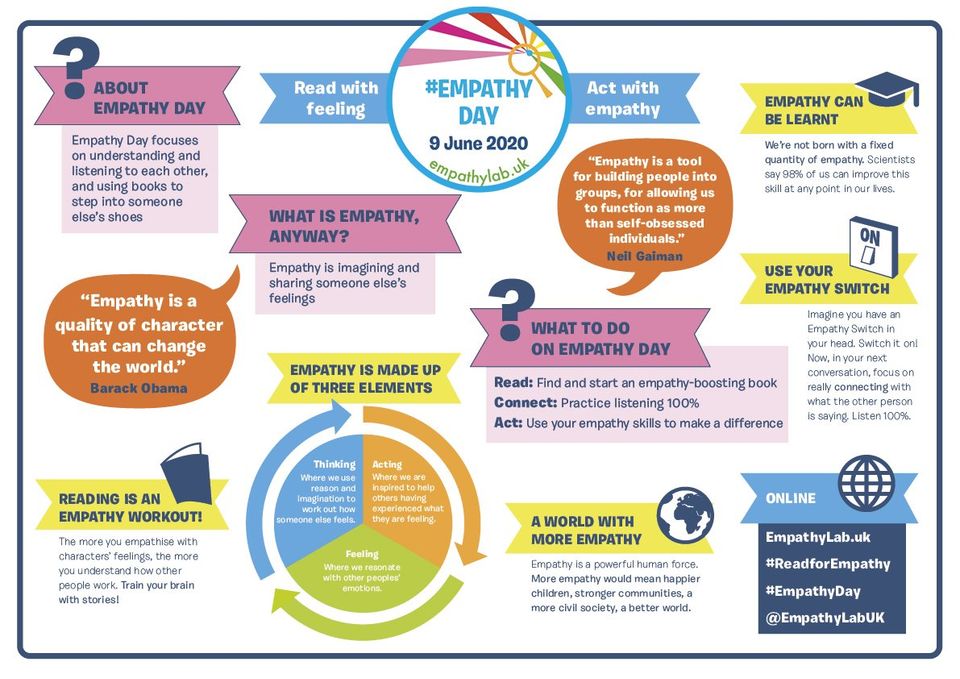 ---
Social distancing is something we all have to put into practice. How can you support someone to visualise, experience and understand the 2 metre rule?
Have a look at the suggestions in the photo and see what social distancing looks and feelS like.
Another way to initiate a conversation around social distancing is to use the concept of caring as a super power.
The author Nicole Rim has written a beautiful book on the power of caring. If you are able to print a copy it can turn into a colouring, relaxing activity that might help to spark a conversation around social distancing and thoughts/worries that children might have.
http://www.nicolerim.com/kidswhocared.html