School Dinners
Fabulous Food at Howard
The price of a daily school lunch is £2.30
At Pabulum our new Summer menu has been nutritionally balanced to include some of the recommended daily intake of vitamins, protein, carbohydrates, fats and sugars for your children.
As always we endeavour to use as many locally sourced products as we can. We also continue our passion for home produced dishes.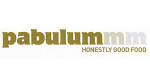 Click on logo to link to their website
The Pabulum team is delighted to have been chosen to provide the catering service for the pupils at Howard Primary…we can't wait to get started!
With a reputation for fabulous food, we make sure that only the freshest, finest, most honestly sourced ingredients ever go into the food we serve. We believe that food not only has to be delicious, it has to be healthy too.
We look forward to meeting you next term. If you'd like to find out more in the meantime, please visit www.pabulum-catering.co.uk or contact Graham Sweet on 07837926767, who would be more than happy to answer any queries you may have.
New allergen menu - BM2 Primary Menu October 2018 with allergens